Bruce in Argentina
Bruce left the Falkland Islands on a Pacific steam navigation ship so that he could make arrangements for the repair of Scotia and to cable for more funds for the expedition. The authorities in the Falklands had wanted 39 shillings and ninepence a ton for coal (Scotia held 200 tons), which was more cash than the expedition had. Without more funds Scotia would not be able to return to Laurie Island and Bruce would have to ask the Argentinian authorities to rescue the six men left at Omond House.
Bruce was very well received in Port Stanley, especially aboard the government vessel HMS Beagle which was carrying on Darwin's tradition of research.
Scotia was to arrive in Buenos Aires eight or nine days after Bruce - mainly under sail as her coal supply was extremely low. On 21 December she ran aground on a sandbank in the estuary of the River Plate, 120km (75 miles) from Buenos Aires. Unknown to Captain Robertson, two of the lightships showing the sandbanks had been moved. She was aground for two days before floating free after lightening.
Argentine help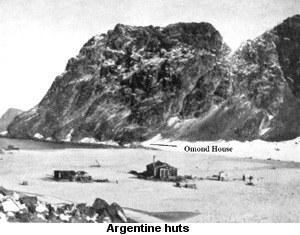 Bruce had asked the British government if they would be interested in continuing the meteorological observations on Laurie Island when he left for home. Not only was the British government not interested in the South Orkney Islands (even as a possible British possession), they had that year closed the Ben Nevis observatory. Bruce approached the Argentinian authorities instead.
He had contacted the La Plata museum in Buenos Aires, the Ministry for Agriculture and the Argentinian meteorological office (run by Walter G Davis) about the possibility of the Argentinian authorities taking over the running of the meteorological station at Omond House. President Roca of Argentina not only agreed but also arranged dry-docking and repair of Scotia free of charge, and gave 200 tons of coal and provided Scotia with supplies. The shore party would include two members of the Scotia party (with Mossman in charge of the station and Bill Smith as cook) and three Argentinian personnel who were to stay over the winter. They were to be relieved the following year by Uruguay.
Work was delayed by a dock strike and the slow pace of work of the Argentinian workers. Scotia sailed on 21 January 1904. Good news was received from the ships sent down to look for Antarctic - all the crew had been rescued.