To Buenos Aires and back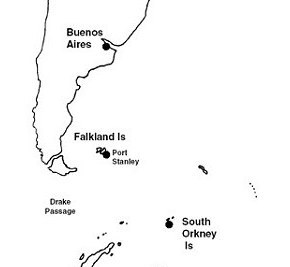 After 240 days trapped in the ice, Scotia was free. After packing up specimens for shipment home and stocking Omond House, she sailed for the Falkland Islands and Buenos Aires.
Six men were left on Laurie Island to continue with meteorological and magnetic observations as well as surveys of wildlife on the island. They were under the charge of Mossman the meteorologist, with Pirie the surgeon.
Scientific research continued as Scotia sailed north including soundings and trawling for marine life. The ship stopped on the Burwood Bank 140km (90 miles) south of the Falkland Islands and made very successful trawls bringing up sea urchins, crustaceans and sponges. On 2 December 1903 Scotia anchored off Port Stanley in the Falkland Islands.