Progress reports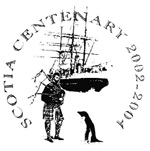 Bruce had cabled home with a report of the expedition so far:
hydrographic survey had been done of 6,400km (4,000 miles) of ocean
the Scotia had reached 70°25'S 7°45'W
trawls had taken place in depths of up to 2,700 fathoms
detailed survey of Laurie Island had been made
continuous meteorological and magnetic readings were being made at Scotia Bay
The plea for help was responded to by many scientists back home who sent small sums of money, e.g. Burn Murdoch sent £100. It was, however, the Coats family who again came to the rescue with a gift of £6,500, enough for another six months' work.
News of other expeditions
The news of other expeditions making simultaneous recordings of weather and magnetism was of immense interest to Bruce:
Discovery

had been trapped for two years in ice in McMurdo Sound and Morning and Terra Nova had been sent to rescue them.

Gauss

had been trapped for almost a year in the ice and had a disappointing voyage.

Antarctic

had disappeared and the Swedish ship Fridjtof and the Argentinian ship Uruguay had been sent to look for her.

Francais

with the French expedition under Charcot was on its way south and Bruce was to pass them in the River Plate.