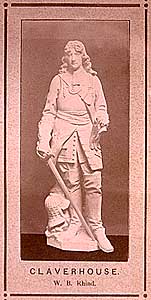 Claverhouse
Found on the south facade of the Scott Monument.
Claverhouse (from the novel 'Old Mortality', 1816) is shown in the outfit of a Privy Councillor's officer, with a tunic over his frockcoat, a cummerbund round his middle, a belt with a large circular buckle across his shoulder and high boots. He is holding a basket hilted sword with his right and a document in his left hand. His helmet is at his feet.
Colonel John Grahame of Claverhouse, later Viscount Dundee, known as "Bluidy Clavers" to his enemies, the Covenanters and "Bonnie Dundee" to his admirers, the Jacobites - is one of the Privy Council's officers charged with suppressing the Covenanters.
"An oval face, a straight and well-formed nose, dark, hazel eyes, a complexion just sufficiently tinged with brown to save it from the charge of effeminacy, a short upper lip…slightly shaded by small mustachios of light brown, joined to a profusion of long curled locks of the same colour, which fell down on each side of his face, contributed to form such a countenance as limners love to paint and ladies to look upon." Yet "under this soft exterior was hidden a spirit unbounded in daring and in aspiring, yet cautious and prudent as that of Machiavel himself."
Comparing himself with Balfour of Burley, Claverhouse admits, "we are both fanatics; but there is some distinction between the fanaticism of honour and that of dark and sullen superstition."
Scott has Claverhouse predict his own death at Killiecrankie:
"When I think of death, Mr Morton, as a thing worth thinking of… it is in the hope of pressing one day some well-fought and hard-won field of battle, and dying with the shout of victory in my ear - that would be worth dying for, and more, it would be worth having lived for!"
About the Sculptor
William Birnie Rhind (1853 to 1933)
W.B. Rhind was born and died in Edinburgh. He was the son of John Rhind (sculptor of several of the other statues on the Monument, see Ivanhoe) and studied under him before enrolling at the Edinburgh School of Design under Hodder. He spent five years at the RSA (Royal Scottish Academy) Life School.
He carved portraits, decorative and memorial groups as well as busts and figures.
He was elected ARSA (Associate of the Royal Scottish Academy) in 1893, and RSA in 1905.