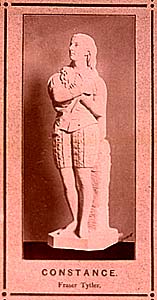 Constance
Found on the south facade of the Scott monument.
Constance (from the poem 'Marmion', 1808) is shown wearing padded shorts and a short jacket, her arms crossed at her chest, her chin raised, gazing nobly into the distance.
Constance is a perjured nun "Whom the Church numbered with the dead / For broken vows, and convent fled."
The discarded lover of the English knight Marmion, she follows him disguised as a page, in hope of winning back his love, although he is intent on wooing the wealthy Lady Clare. Constance is unmasked at the convent at Whitby, and is punished by being bricked up alive.
Conscious of her own failings, she nevertheless goes to her death proud and scornful of the monks whose task it is to entomb her:
"Now, men of death, work forth your will,
For I can suffer, and be still;
And come he slow, or come he fast,
It is but Death who comes at last."
The statue of Constance is by Katherine Anne Fraser Tytler