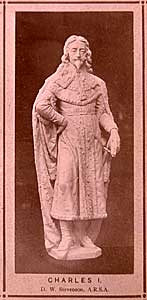 Charles I
Found on the north facade of the Scott Monument, opposite John Knox, beside the Museum room window.
Charles I is depicted with pointed goatee beard dressed regally in ermine robes.
Charles I (cf. John Knox, George Buchanan), does not feature directly as a character in Scott's fiction or poetry, although he is mentioned at various times. In Woodstock (1826), Cromwell is confronted by a portrait of the king he has had executed, and muses thus: "It was a stern necessity - it was an awful deed! The calm pride of that eye might have ruled worlds of crouching Frenchmen, or supple Italians, or formal Spaniards; but its glances only roused the native courage of the stern Englishman."
In Tales of a Grandfather (1827 to 1829), his child's history of Scotland, Scott describes Charles as:
"a prince whose personal qualities were excellent. It was said of him justly, that considered as a private gentleman, there was not a more honourable, virtuous, and religious man, in his dominions…But, on the other hand, he entertained extravagant ideas of the regal power, feelings which, being peculiarly unsuitable to the times in which he lived, occasioned his own total ruin…"
About the Sculptor
David Watson Stevenson (1842 to 1904)
D.W. Stevenson was born in Ratho, Midlothian on 25 March 1842 and died in Edinburgh on 18 March 1904. He trained at the Trustees School and Life School, and later in Rome before working under William Brodie for eight years.
While assistant to Sir John Steell, he did statues of 'Science', 'Learning' and 'Labour' for the Scottish National Memorial to the Prince Consort in Charlotte Square. His statue of Robert Burns (1898) is in Bernard Street, Leith. Others include 'Sir John Steell when sculptor to Her Majesty for Scotland' (1887) and 'Napier of Murchiston' (1898) both now in the Scottish National Portrait Gallery.
Also on the Scott Monument, the figures of James VI, Queen Mary, The Fair Maid of Perth and Montrose.