Winter in Scotia Bay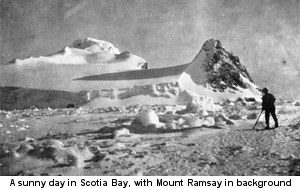 A routine was maintained on Scotia throughout her stay at Scotia Bay on Laurie Island. The day usually began for scientists and crew about 7:30am (except for those taking hourly observations and the night watchman). In the middle of winter when there was little daylight a shorter working day was the norm. Even on the shortest days they had five hours of daylight.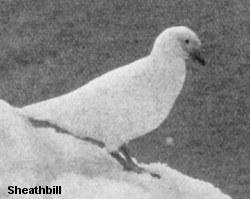 The routine observations of weather and magnetism continued. Kites were flown when the weather was suitable to carry aloft the meteorological instruments - thermograph, hygrograph and barograph.
Traps were set, dredges made - sometimes unique species of fish were found and some of these ended up in the cooking pot. Bruce was keen that fresh meat be eaten over the winter to avoid scurvy. Penguins were a popular item on the menu - gentoo penguins were found to be the tastiest. Several hundred penguins were killed for food and kept outside in the natural deep-freeze. Seals were the other source of fresh meat.
Winter birds included giant petrels, shags flying overhead looking for leads in the ice, and sheathbills which stayed over the winter feeding off scraps from Scotia.
Footwear
Leather boots were no good in the cold weather of the Antarctic winter. Fur boots were found to be ideal. All the members of the Scotia expedition wore two pairs of socks - the outer pair made of goat hair and the inner of a mixture of human and goat hair. Senna grass was stuffed in the toe of the boot to help prevent frostbite, which tends to attack the body's extremities such as fingers and toes.