Robert Falcon Scott - Scott of the Antarctic
Robert Scott had an adventurous boyhood at 'Outlands', the family home in Devon where he led his brothers and sisters in mock battles with 'the enemy'. At the age of 16 he joined the Royal Navy as a cadet. Scott was always a fit young man - when planning the Discovery expedition in London he used to run around the streets for exercise.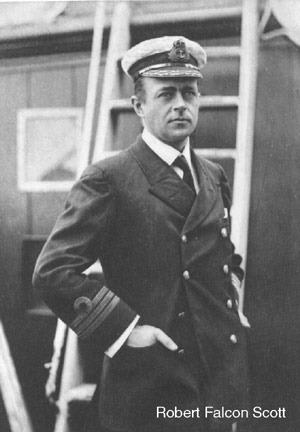 In 1899 Scott was a torpedo officer on board HMS Majestic. He had previously met Sir Clements Markham, president of the Royal Geographical Society, and when he heard Markham was to organise an expedition to the Antarctic he applied for the job of expedition leader.
In 1900 the keel was laid for a new Antarctic research ship, Discovery, to be built in Dundee. The ship was launched in March 1901 by Lady Markham then taken south to be fitted out. This was the first ship specially built in Britain for research.
The expedition was supported by the British government and prime minister Balfour. £45,000 was contributed by the government and a similar amount was raised by the organisers.
Scott went to Norway to consult with Dr Nansen about his experiences in the Arctic. When in Norway he heard the Germans were to mount an expedition to the Antarctic and he quickly returned home where he took over the organisation of the Discovery expedition (which was not making very rapid progress).
Scott wanted an all Royal Navy crew and this was almost achieved. The second in command was Albert Armitage, who had been on the Jackson-Harmsworth expedition (see section 4). The senior doctor, Reginal Koettlitz, had also been on that expedition. He was the oldest member of the Discovery Expedition (aged 40).
Scott wanted to spend time at the Ben Nevis observatory testing gear, but sent Charles Royd (First Lieutenant, Royal Navy). The officers and scientists numbered 11 (Scott, Armitage and Koettlitz, plus six Royal Navy, one Merchant Navy, and Ernest Shackleton, Royal Naval Reserve). The average age of the officers and scientists (known as the wardroom) was 24; Scott himself was aged 33. The crew (warrant officers, petty officers, marines and seamen) numbered 29 Royal Navy and five Merchant Navy.
Scott - the Scottish connection
The great great grandfather of Robert Falcon Scott - Scott of Brownhead - had his estates taken by the crown after the 1745 uprising. His son was born in a fisherman's cottage in 1745. This son eventually settled in Devon where he prospered and built the family home, 'Outlands'. All of his four sons joined the Royal Navy. The eldest of these was grandfather to Robert Falcon Scott.