Jackson-Harmsworth Expedition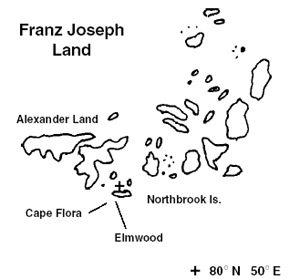 In 1896, Hugh Robert Mill who worked for the Royal Geographical Society in London suggested Bruce as zoologist on the Jackson-Harmsworth Expedition to the Arctic on the steamship Windward. Bruce had four days to leave Ben Nevis and report to the ship in London. He arrived with no baggage and his friend Mill helped him out with clothes and equipment.
Windward was the relief ship for the expedition, which was financed by Harmsworth and led by Frederick Jackson. It had already been in Franz Joseph Land for two years surveying and hunting when Bruce arrived.
Bruce trawled daily for marine specimens on the way north with his assistant David Wilton (who later sailed on Scotia). Jackson spent part of his time hunting polar bears. Over 80 bears were killed and hundreds of sea birds. Bruce was horrified at this wanton killing.
Franz Joseph Land - a group of 75 islands - had only been discovered in 1873. The islands were annexed by Russia in 1929.
The winter quarters for the expedition were at Elmwood on Northbrook Island. Eight people overwintered there including Bruce, Wilton, Armitage and Koettlitz. While in the islands, Bruce met up with Fridtjof Nansen who had been thought by the world community to have been lost in his ship the Fram. They met at Elmwood where Nansen was waiting for Windward to take him home.
Bruce also met up with three of the Dundee whaling expedition ships: Balaena, Diana and Active, again at Elmwood. Balaena was now under the command of Captain Thomas Robertson who had commanded Active in the Dundee Antarctic Expedition of 1882-83 and was later to command Scotia on the Scottish National Antarctic Expedition. Balaena had shot 2,000 walruses but only 500 were caught as walruses sink rapidly when shot.
The successful use of horses on this expedition resulted in Shackleton taking horses to the Antarctic on Nimrod. They were not a great success.
Harmsworth gave the sledges from this expedition to Bruce in 1902 to take to the Antarctic on the Scotia expedition.
The second-in-command of the Discovery expedition, Albert Armitage, was on the Jackson-Harmsworth Expedition with Reginald Koettlitz, who sailed with Scott as a doctor.