The British Antarctic Expedition 1901-1904
Discovery sailed from London on 31 July 1901 following the track of Cook and Ross. After a passage through all kinds of weather (including gales when the ship rolled through 40°), she reached Cape Town on 2 October for a ten-day stay.
Discovery sailed on to New Zealand, passing within 320 kilometres (200 miles) of Antarctica and stopping off for five hours on Macquarie Island. She arrived at Lyttelton, the port for Christchurch in the South Island, on 29 November. The crew were very well received in New Zealand. Minor repairs were carried out, stores loaded and a gift of 22 sheep was given to them by a New Zealand farmer. The ship sailed on 21 December (midsummer's day in the Southern Hemisphere), accompanied by warships. A brief stop was made at Port Chalmers to top up the coal bunkers and she crossed the Antarctic Circle on 3 January 1902.
Tragedy at Lyttelton
Discovery sailed from Lyttelton with bands playing and crowds lining the wharves. A high spirited young seaman decided to climb the main mast above the crow's nest where he sat on the top of the mast waving to the crowds. He then attempted to stand on the main mast, slipped and fell to his death. A tragic start to the expedition. He was buried when the ship stopped at Port Chalmers.
Discovery made her first landfall at Cape Adare on the Antarctic Peninsula where she stopped for a while. It was on 21 January that she broke through the ice into McMurdo Sound where she was to stay for two years.
The crew prepared for the Antarctic winter. Ashore, a large hut was erected, as were two smaller huts for magnetic observations at Hut Point beside Cape Armitage ('named after our excellent navigator'). The party practised skiing, and sledging with dogs. They had several problems getting the dogs to work together and soon found the food supplies and clothing inadequate for sledge journeys.
On 15 February the huts were complete and 15 tons of coal was ashore to heat the huts. Observations began in the magnetic huts. Little was known at that time of the Earth's magnetic forces - vital for steering accurate compass courses. Meteorological screens were made and observations were taken every two hours.
At this time calm days were rare and there was a cold south-east wind. It was 28 March before Discovery was surrounded by ice. Two men almost lost their lives in a blizzard at this time. They had left the magnetic-observation huts for the ship (a journey of 200 metres) and wandered around lost for two hours before a party of ten returning from the large hut heard their shouts for help.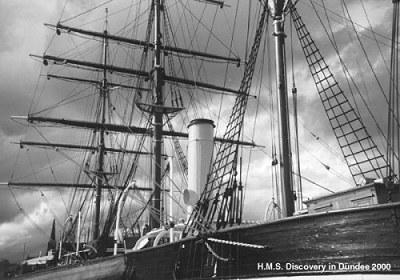 The ship's boats were placed on the ice to give more deck space and to allow an awning to be fixed over the deck. This proved a mistake as they filled with snow and sank into the ice. The snow had to be regularly dug out of the boats and it was the following summer before they were released.
It had been many years since a British sledging expedition to the Antarctic. This was why Scott had consulted with Nansen. Armitage had sledging experience in the Arctic but the Antarctic was very different and the weather was more severe. Scott soon decided that men were better than dogs at pulling sledges. He was also very distressed at the loss of the dogs on his trip south.
'In my mind no journey, even made with dogs, can approach the height of that fine conception which is realised when a party of men go forth to face hardships, dangers, and difficulties with their own unaided efforts, and by days and weeks of hard physical labour succeed in solving some problem of the great unknown. Surely in this case the conquest is more nobly and splendidly won.'
On 17 September Scott made a southern reconnaissance. The lack of experience of Antarctic conditions was soon shown in dog- and sledge-handling and in the crossing of terrain: dogs and sledges fell into crevasses. 'Fools rush in where angels fear to tread,' said Scott.
On his return from this journey Scott found that scurvy had broken out in the camp. Tinned meat was banned and a diet of seal meat resulted in the disappearance of the scurvy.