The image below requires flash player to view. If you would rather see an alternative page please click here.
Above are a series of four watercolour paintings looking across Edinburgh from the Scott Monument made in 1845 and 1847 by artist Joseph Woodfall Ebsworth.
These four views compliment the four watercolour paintings by Richard Demarco made in 1986, also in the City Art Centre collection.
View north is at 2.45pm on September 15 1845.
This view is looking up South Saint David Street, over the rooftops, past Saint Andrews Square with the Melville Monument and gardens below. The coast of Fife is in the back ground past the areas of Goldenacre and Trinity.
The church spire to the left is that of Saint Andrew's and Saint George's on George Street completed in 1787.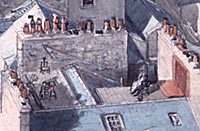 On the rooftop of the building on the corner at the near right, there is an unusual scene - that of a photographer taking a picture of a couple posing in front of a coloured backdrop.
View south is at 4.40pm during May 1847, showing Waverley Bridge, the Old town and the Mound.
This view shows the Old Town with the dense mass of buildings - a legacy of the medieval layout. The High Street, also known as the Royal Mile runs down from the Castle to Holyrood Palace and Abbey. There are three church spires shown on High Street - on the left is the Tron Kirk, the 'crown spire' in the centre is St Giles Cathedral and to the right is the Tolbooth Church on Castlehill. The substantial building in the greenery to the right is the head office of the Bank of Scotland (amended in 1863).
View east is at 11.45am during August 1847.
This view looks along Princes Street towards Calton Hill where the Observatory, National Monument and Nelson Monuments can be seen. The volcanic hill beyond the gas works chimney is called Arthurs Seat, and the railway line goes under the original (1763) North Bridge, which connects the Old Town with the New.
View west is at 10.15am during August 1847, showing a parade, west of the Royal Scottish Academy.
The scene is a parade of red coated soldiers arriving at the Mound. The National Gallery of Scotland has not yet been built, and now stands in the area above the railway tunnel.