Sir Archibald Geikie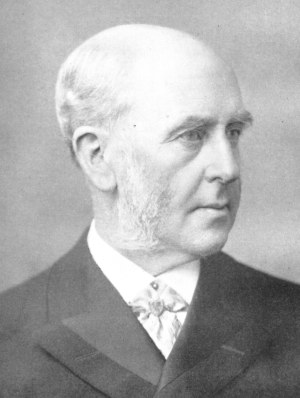 The well-known geologist, Sir Archibald Geikie, climbed Ben Nevis on 14 June 1895 while working in the area. 'At the summit, I found the observer in charge, Dr W S Bruce, of Antarctic fame, stretched on a lately-fallen sheet of snow, carefully collecting the numerous and varied forms of insect life which, borne upward by warm air currents from lower level, were chilled by the cold surface on which they had come to rest.' Geikie stayed the night in the summit observatory.
Scotland has always been a leader in the study of geology, from the days of Sir Charles Lyell (1797-1875) who is regarded as the father of geology. Geikie was an exceptional geologist. Born in 1855, he had a distinguished undergraduate career and at age 19 joined the Geological Survey of Great Britain. In 1867 he became the director of the survey in Scotland and later for the whole of Britain. He became professor of geology at Edinburgh University and president of the Geological Society of London. He was a prolific writer of books which were translated into several languages. His work includes Scenery of Scotland, Textbook of Geology, Ancient Volcanoes of Great Britain and Founders of Geology (last published in 1960). He died in 1924.
A study of rocks and fossils in the Antarctic was an important part of the Scottish National Antarctic Expedition 1902-04.