Adventure tourism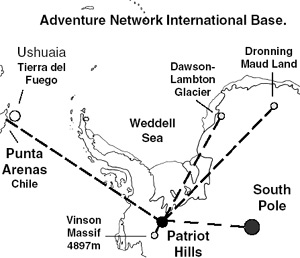 Sailing

Many yachts now visit the Antarctic continent despite the fog, icebergs and gales. Over 150 people per year now arrive this way.

Mountaineering

There are many unclimbed peaks in Antarctica. The most accessible ones are on the Antarctic Peninsula.
Adventure Network International (ANI, founded in 1985) flies more than 130 people each year from Punta Arenas (Chile) to their summer base at Patriot Hills in the Ellsworth Mountains. This is the only private camp in the Antarctic. One hour's flying from Patriot Hills is Vinson, the highest peak in the Antarctic continent - this has now been climbed by over 500 people.
ANI uses a Hercules C130, an Ilyushin 76 jet and a DC3 turbine-powered aircraft to reach Patriot Hills, landing on a 3km (two-mile) blue ice runway. Twin Otters and Cessnas are then used for expeditions to Vinson, to the emperor penguin colonies and to the South Pole.
Aircraft must carry enough fuel for the return journey to Punta Arenas. To ship aviation spirit to Patriot Hills would make it more expensive than whisky.
Trips to Patriot Hills are very expensive with no guarantee that the weather will be suitable for any outdoor activities or that the climbers will be able to fly to Patriot Hills (or back) for many days due to the weather.