The crew
One leader, six scientists, five officers, 26 crew
Captain Thomas Robertson from Peterhead had been sailing in the icy waters of the Arctic and Antarctic for many years and had been captain of a whaler since 1879. He was captain of Active (Dundee whaling expedition 1892-93 when Bruce was on Balaena) and captain of Balaena in 1896 when Bruce met him at Franz Joseph Land on the Jackson-Harmsworth expedition. (Robertson was whaling at the time.)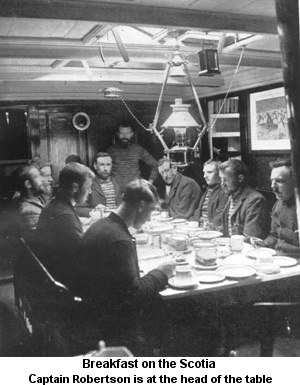 Of the 26 crew, all but two were experienced sailors from the Scottish merchant fleet.
The scientific staff
William Speirs Bruce

Leader of the expedition, biologist, zoologist, oceanographer.

David Wilton

Zoological work, testing the specific gravity of water. Lived in northern Russia but was the only Englishman on Scotia. Took part in the Jackson-Harmsworth expedition 1896-97. Distinction in biology and botany from Edinburgh University, also an observer on Ben Nevis.

R N Rudmose Brown

Botanist. Graduate of Aberdeen University, professor of botany at Dundee University. Extensive experience at Kew and in the British Museum.

Dr John H Harvey Pirie

Geologist, bacteriologist and medical officer. Graduate of science and medicine, Edinburgh University. Studied deep-sea deposits at the Challenger office. Also worked for the geological survey.

Alastair Ross

Taxidermist. Student of medicine in Edinburgh.

William Cuthbertson

Artist. Studied in Edinburgh and Paris.

Robert Cockburn Mossman

Established meteorologist, in charge of the Ben Nevis observatory for a time, graduated from St Andrews University as a botanist and zoologist. Highly regarded in Europe and had written several papers on meteorology.