The ship
Bruce, like Scott, went across to Norway to consult with the Arctic explorer Fridtjof Nansen. He had met Nansen in Franz Joseph Land and they had remained firm friends. Nansen suggested a Norwegian whaler for the trip and Bruce purchased the whaler Hekla for £2,620. (Bruce had wanted to purchase Balaena but the price was too high.)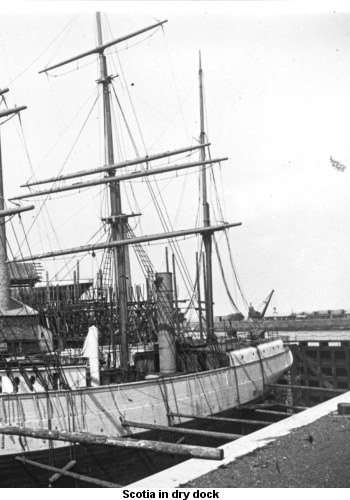 Hekla was sailed across the North Sea to Aberdeen, then to Peterhead and Inverness and through the Caledonian Canal to Oban and finally Troon.
The naval architect George Watson gave his services free for the refit of Hekla (to be renamed Scotia). Although the ship had been inspected by Nansen and by Colin Archer the architect of Nansen's own ship, it proved to be in poor condition. The outer layers of wood were good but below them the wood was rotten. Watson's comment was: 'Fill her with stones and take her to Ailsa Craig and sink her.' Scotia was virtually rebuilt and in her final form was one of the most graceful of polar ships. The ship was fitted out in Ailsa Shipyard at Troon with new spars and a new engine (see section 8).
Scotia was a three-masted wooden barque 42 metres (140 feet) long, with a beam of nine metres (29 feet), draft or depth 4.5 metres (15 feet) and a freight-carrying capacity of 357 tons.
Hull

Minimum thickness 63cm (25 inches) of wood - at the bow it was solid wood 2.75m (nine feet) thick - with a layer of 5.7cm (2.25 inches) of greenheart, a very hard tropical hardwood, to protect it from scraping by the ice.

Engine

Fifty-five horse power steam engine.

Speed

A cruising speed of six knots burning three tons of coal a day, although the ship could travel at up to ten knots under sail if the was wind favourable.

Deckhouse

Two laboratories for microscopic work and zoology, plus a photographic dark room. One thousand gallons of methylated spirits were carried for preserving specimens.

Cabins

Officers and scientists had cabins off the main saloon as on Discovery. Mates and petty officers lived amidships, and the crew in the forward part of the ship