Aftermath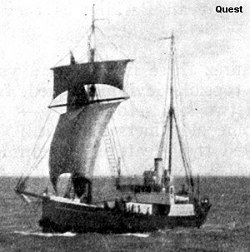 Shackleton was back in Britain on 29 May 1917. Thirty of his men joined the services and some lost their lives during the war after surviving the rigours of the Antarctic.
In 1920 Shackleton decided to go south once more and mounted an expedition to look for lost or uncertain Antarctic islands, to do oceanographic work and to investigate Polynesian navigation. The ship he was to use was the Norwegian whaler Quest. Eight of the crew of Endurance were to join him including Captain Worsley and Frank Wild. The expedition was financed by John Quiller Rowett (who founded the Rowett Institute in Aberdeen).
Shackleton's health had always been suspect and in Rio de Janeiro he had a heart attack. He continued south but died on 5 January 1922 of a massive heart attack. He was buried at Grytviken on South Georgia with whalers from the South Shetland Islands as pall bearers.