Rescue
Discovery was available for a rescue mission organised by the admiralty, but Shackleton couldn't wait. On 16 June 1916 he left in a steam tug from Uruguay and got within 30km (20 miles) of Elephant Island before again being stopped by the pack ice. The third attempt was on the chartered schooner Emma from Punta Arenas, but this was also unsuccessful.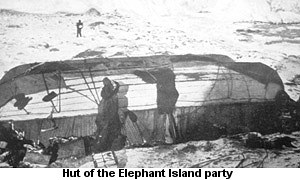 The fourth attempt on the Chilean tug Yelcho was successful, and the Elephant Island party of 22 men was rescued 128 days after Shackleton had left. They were short of food, living on limpets collected on the sea shore. They had lived in cramped accommodation under the upturned boats.
Shackleton said at the time of the crew of Endurance, 'Not a man lost and we have been through hell.' Shackleton was received as a hero in South America. He travelled to Santiago in Chile and to Buenos Aires. On 8 October he left Buenos Aires for New Zealand - the Ross Sea party still awaited rescue.
Aurora had only broken out of the ice on 14 March 1916 while Shackleton was still camped on the ice of the Weddell Sea. Aurora was badly damaged by the ice and had rudder problems. She had little fuel for her engine but managed to reach Port Chalmers in New Zealand.
The New Zealand government paid for the refit of Aurora. Shackleton joined her before she sailed south as a supernumerary under the command of Captain John King Davis. They sailed on 20 December 1916, arriving in McMurdo Sound on the 10 January 1917 to rescue seven of the ten men. One had died returning from the 83°S depot and two had disappeared on the journey from Hut Point to Cape Evans. They had been told the ice was not suitable but had left anyway. It was two months later that the rest of the party returned to Hut Point.