The western journey, October 1903
After laying out a depot on the glacier, the main party with Scott in command left on 12 October 1903 with 12 men and four sledges. This was later reduced to three men as the support party turned back.
The trip up the glacier was very difficult with rough broken terrain, and they were tent-bound for a week with severe storms and temperatures of -40°C. On 11 November they reached 'Desolation Camp' on the polar plateau at an altitude of 2,715m (8,900 feet).
Scott said: 'For me the last month spent on the Victoria Land summit remains as some vivid but evil dream. The month has been a struggle to penetrate into this barren, deserted and wind swept, piercingly cold and fearfully monotonous region.'
The return trip took longer than expected due to the poor weather and at times they were travelling at one mile per hour. Scott and Evans fell into a crevasse and were lucky their sledge did not follow them in. Fortunately, they just managed to climb out.
The party reached base camp on 24 December after a journey of 1,150km (725 miles) in 59 days.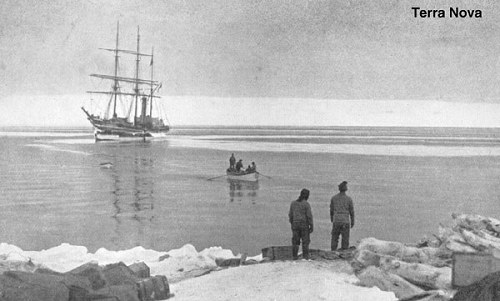 Discovery was still trapped in the ice 30km (20 miles) from the open sea. On 4 January the relief ship Morning arrived with another vessel - the Terra Nova. The experts back in Britain thought the Discovery was trapped for ever and ordered Scott to return on the Terra Nova. The British government financed the two relief ships. On 15 January Scott organised the transfer of collections and instruments to the relief ships. On the 18 January the ice at last began to break up and by 23 January the relief ships were 21km (13 miles) from Discovery. By 28 January the whole ice sheet was moving up and down with the swell.
By the 14 February the ice was breaking up in the strait with a rapidity not thought possible, and the two relief ships broke through into McMurdo Sound. The last ice barrier was blown up by explosives on the 16 February and Discovery was free and riding at her anchor.
On the 17 February the wind rose to gale force and Discovery just managed to raise steam as the stern was banging against the edge of the ice. On the way out, the Discovery was caught by wind and current and ran aground. Fortunately the wind dropped and the current changed direction. Discovery took on coal from Morning and Terra Nova and headed west along the coast. The way was barred by ice and Discovery headed north towards the Balleny Islands. She then sailed north to rendezvous with Terra Nova and Morning at Port Ross in the Auckland Islands (south of New Zealand).
All three ships arrived together in Lyttelton in New Zealand to a tremendous welcome. They stayed two months before arriving back in Britain on 9 September to a heroes' welcome.