Voyage of the Scotia 1902-04
Telegram from William S Bruce in Buenos Aires to his wife in Edinburgh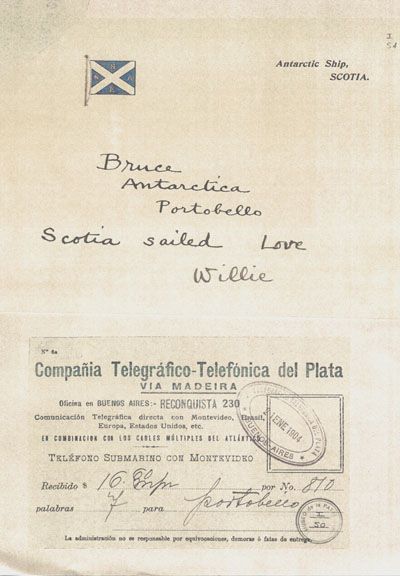 The telegram sent by William S Bruce on 21 January 1904 to his wife Jessie in Portobello announced the departure of the Scotia on its return to the Antarctic. This was after a month spent in Buenos Aires refitting and replenishing stores during the 1902-1904 Scottish National Antarctic Expedition.
As on both the original outward voyage and the subsequent voyage back to Argentina, a call (of ten days on this occasion) was made at the Falkland Islands, following a ten-day sail.
Eventually on 14 February 1904 the vessel anchored at Uruguay Cove in Jessie Bay on the north coast of Laurie Island in the South Orkney Islands, before two days later making the three-hour voyage round to Scotia Bay on the south of the island.