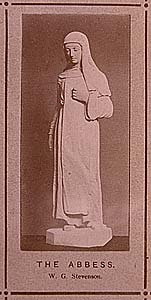 The Abbess
Found on the east facade of the Scott Monument.
The Abbess of St Hilda (from the poem 'Marmion', 1808) is shown in a very simple nun's habit. She plays an important role in the plot of the poem - it is she who learns from Constance (the perjured nun and Marmion's former lover and accomplice) of Marmion's crimes, and hands over the proofs to Marmion's rival Ralph de Wilton.
"Her hopes, her fears, her joys were all
Bounded within the cloister wall:
The deadliest sin her mind could reach,
Was of monastic rule the breach;
And her ambition's highest aim,
To emulate Saint Hilda's fame…
Her cheek was pale, her form was spare;
Vigils and penitence austere
Had early quenched the light of youth,
But gentle was the dame, in sooth;
Though vain of her religious sway,
She loved to see her maids obey,
Yet nothing stern was in her cell,
And the nuns loved their Abbess well."
About the Sculptor
William Grant Stevenson (1849 to 1919)
Born in Ratho, Midlothian, William Grant Stevenson was the younger brother of David Watson Stevenson. He was educated in the parish school and later trained at Edinburgh College of Art and the Royal Scottish Academy life class, where he gained one gold and two silver national medals.
His most important works are statues of Robert Burns in Kilmarnock, Denver and Chicago, and Sir William Wallace in Duthie Park, Aberdeen (1883).
His statues on the Scott Monument are of Caleb Balderstone, The Abbess and Peter Peebles.