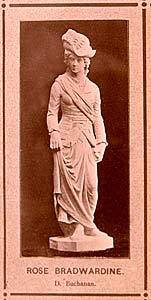 Rose Bradwardine
Found on the west facade of the Scott Monument.
Rose Bradwardine (from the novel 'Waverley', 1814) is shown as a well-dressed, slim figure in a cocked riding hat and ladies riding outfit - a tight jacket and sash and a loose skirt
The only child of Baron Bradwardine, and "the very apple of his eye", Rose secretly loves Edward Waverley, who eventually returns her devotion. "To Waverley, Rose Bradwardine possessed an attraction which few men can resist, from the marked interest which she took in everything that affected him."
Beautiful, amiable and accomplished, she is also quiet and domesticated, and her friend Flora Mac-Ivor predicts the kind of future she and Edward will eventually have together:
"High and perilous enterprise is not Waverley's forte…He will be at home…in the quiet circle of domestic happiness, lettered indolence, and elegant enjoyments, of Waverley-Honour… He will refit the old library in the most exquisite Gothic taste… he will draw plans and landscapes…and he will repeat verses to his beautiful wife, who will hang upon his arm; - and he will be a happy man."
Rose Bradwardine was sculpted by D. Buchanan