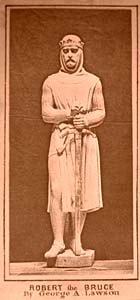 Robert the Bruce
Found on the upper tier of the North East buttress of the Scott Monument.
Robert the Bruce (from the poem 'The Lord of the Isles', 1815), is depicted wearing a simple crown and chain mail, solemnly leaning on his sword in contemplation.
Bruce appears in Scott's epic poem as a valiant and noble king, proud and chivalrous, fighting his way to the throne of Scotland. The poem culminates with the Battle of Bannockburn, on the eve of which Bruce slays the English knight Henry de Bohun:
"He spurred his steed, he couched his lance,
And darted on the Bruce at once.-
As motionless as rocks that bide
The wrath of the advancing tide,
The Bruce stood fast…
But, swerving from the knight's career,
Just as they met, Bruce shunned the spear.
Onward the baffled warrior bore
His course - but soon his course was o'er!
High in the stirrups stood the King,
And gave his battle-axe the swing…
Such strength upon the blow was put,
The helmet crashed like hazel-nut;
The axe-shaft, with its brazen clasp,
Was shivered to the gauntlet grasp.
Springs from the blow the startled horse,
Drops to the plain the lifeless corse;-
First of that fatal field, how soon,
How sudden, fell the fierce De Boune!"
About the Sculptor
George A. Lawson (1832 to 1904)
Lawson was born in Edinburgh and died in Richmond, Surrey. He studied at the Trustees Academy under RS Lauder and became a pupil of Alexander Handyside Ritchie. He specialized in portrait busts in bronze, terracotta and marble and exhibited at the Royal Scottish Academy in 1860, and elected as HRSA (Honorary Member of the Royal Scottish Academy) in 1884.
He also sculpted Diane Vernon and Bailie Nichol Jarvie on the Scott Monument, the frieze on Glasgow City Chambers depicting the countries of the World paying homage to Great Britain and Queen Victoria (1888), and the Wellington Monument in Liverpool.
A bronze figure of a boy 'Summer' is in the George Watsons College, Edinburgh.