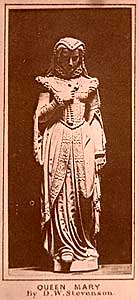 Queen Mary
Found on the lower tier of south-east buttress of the Scott Monument.
Queen Mary (from the novel 'The Abbot', 1820), has a thoughtful, sad and dignified expression, holding a cross to her bosom and wearing robes trimmed with lace.
The novel deals with Mary's imprisonment in Lochleven Castle, her abdication, escape, the Battle of Langside and her flight to England (1567 to 1568).
"Her face, her form, have been so deeply impressed upon the imagination, that, even at a distance of nearly three hundred years, it is unnecessary to remind the most ignorant and uninformed reader of the striking traits which characterise that remarkable countenance, which seems at once to combine our ideas of the majestic, the pleasing, and the brilliant, leaving us to doubt whether they express most happily the queen, the beauty, or the accomplished woman."
Scott said that he "ventured to awaken, in a work of fiction, the memory of Queen Mary, so interesting by her wit, her beauty, her misfortunes, and the mystery which still does, and probably always will, overhang her history." He was fascinated by the tragic life of this "most illustrious - most unhappy lady", for whom "true men" were willing to sacrifice everything.
About the Sculptor
David Watson Stevenson (1842 to 1904)
Stevenson was born in Ratho, Midlothian on 25 March 1842 and died in Edinburgh on 18 March 1904. He trained at the Trustees School and Life School, and later in Rome before working under William Brodie for eight years.
While assistant to Sir John Steell, he did statues of 'Science', 'Learning' and 'Labour' for the Scottish National Memorial to the Prince Consort in Charlotte Square. His statue of Robert Burns (1898) is in Bernard Street, Leith. Others include 'Sir John Steell when sculptor to Her Majesty for Scotland' (1887) and 'Napier of Murchiston'(1898) both now in the Scottish National Portrait Gallery.
Also on the Scott Monument, the figures of James VI, Charles I, The Fair Maid of Perth and Montrose.