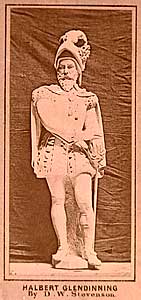 Halbert Glendinning
Found on the upper tier of the south-west buttress of the Scott Monument.
Halbert Glendinning (from the novels 'The Monastery, 1820, and 'The Abbot', 1820), is depicted as a sturdy man at arms, a warrior and a statesman.
The elder son of Simon Glendinning (killed at the Battle of Pinkie, 1547), Halbert is "hasty, wild, and inconsiderate", and as a youth has vowed to "call none lord, but him who wears a sword to make his title good."
In 'The Monastery', he, like his brother Edward, loves Mary of Avenel, whose hand he eventually wins. Before this, however, he is involved in a duel with the English knight Sir Piercie Shafton, leaves him for dead, and flees to enter the service of the Earl of Murray.
In 'The Abbot', which is set ten years later in 1567 to 1568, Halbert has matured. As the Knight of Avenel, he is "a kind and beneficent overlord", and, to Murray, "a steady friend, strong in battle and wise in council&quot.
About the Sculptor
David Watson Stevenson (1842 to 1904)
Stevenson was born in Ratho, Midlothian, on 25 March 1842, and died in Edinburgh on 18 March 1904. He trained at the Trustees School and Life School, and later also in Rome, before working under William Brodie for eight years.
While assistant to Sir John Steell, he did statues of 'Science', 'Learning' and 'Labour' for the Scottish National Memorial to the Prince Consort in Charlotte Square. His statue of Robert Burns (1898) is in Bernard Street, Leith. Others include 'Sir John Steell when sculptor to Her Majesty for Scotland' (1887) and 'Napier of Murchiston' (1898) both now in the Scottish National Portrait Gallery.
Also on the Scott Monument, the figures of Queen Mary, James VI, Charles I, The Fair Maid of Perth, and Montrose.