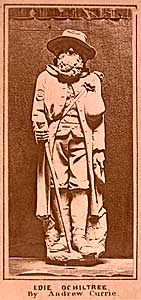 Edie Ochiltree
Found on the upper tier of the North East buttress of the Scott Monument.
Edie Ochiltree (from the novel 'The Antiquary', 1816) is shown with a long straggly beard, grizzled hair, and wide brimmed hat, a typical itinerant with walking stick and bags slung from his shoulder strap. His long coat has a 'beggars badge' on the right arm.
A professional beggar, one of the King's "bluegowns" or "bedesmen", Edie wanders the countryside dispensing sage advice, and is on familiar terms with all the inhabitants, regardless of rank. His appearance is as follows:
"A slouched hat of huge dimensions; a long white beard, which mingled with his grizzled hair, an aged, but strongly marked and expressive countenance, hardened, by climate and exposure, to a right brick-dust complexion; a long blue gown, with a pewter badge on the right arm; two or three wallets, or bags, slung across his shoulder, for holding the different kinds of meal, when he received his charity in kind from those who were but a degree richer than himself…"
He describes himself as one "that brings news and country cracks frae ae farm-steading to anither, and gingerbread to the lasses, and helps the lads to mend their fiddles, and the gudewives to clout their pans…and has skill o' cow-ills and horse-ills, and kens mair auld sangs and tales than a' the barony besides, and gars ilka body laugh wherever he comes".
"I canna lay down my vocation," he declares. "It would be a public loss."
About the Sculptor
George A. Lawson (1832 to 1904)
Lawson was born in Edinburgh and died in Richmond, Surrey. He studied at the Trustees Academy under RS Lauder and became a pupil of Alexander Handyside Ritchie. He specialized in portrait busts in bronze, terracotta and marble and exhibited at the Royal Scottish Academy in 1860, and elected as HRSA (Honorary Member of the Royal Scottish Academy) in 1884.
He also sculpted Diane Vernon and Bailie Nichol Jarvie on the Scott Monument, the frieze on Glasgow City Chambers depicting the countries of the World paying homage to Great Britain and Queen Victoria (1888), and the Wellington Monument in Liverpool.
A bronze figure of a boy 'Summer' is in the George Watsons College, Edinburgh.