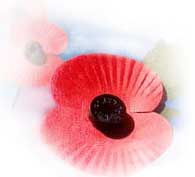 The history of Craiglockhart - The Hydropathic
At this time hydropathics were extremely popular with rich Victorians who believed in the therapeutic power of water treatments. Craiglockhart offered an array of water treatments, including: Turkish Baths, a large swimming pool measuring 50 ft by 22 ft, bath rooms with hot and cold plunge, vapour, spray, needle, douche, and the oddly named electrical baths. Craiglockhart, situated close to the centre of the city of Edinburgh, and its railway that ensured speedy links with other parts of the country, seemed ideally placed to become a successful establishment.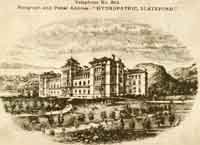 However, despite its imposing architecture, fine facilities and wonderful views towards the Firth of Forth, the Hydropathic was not a success and after many financial difficulties the building was sold to Mr James Bell in 1891. Mr Bell was the owner of the Dunblane Hydropathic Company, and it was he who invited
Henry Carmichael
to move to Craiglockhart from his home in Dunblane to become the head gardener at the Hydropathic. Under James Bell's management Craiglockhart traded successfully as a Hydropathic establishment until the early years of World War One.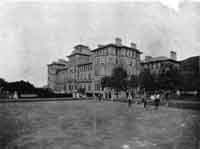 Click on underlined text for more information - click on photograph for a larger image