Achievements of British Antarctic Survey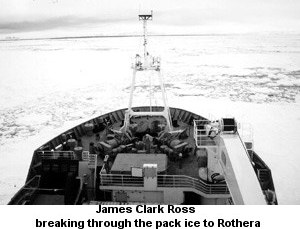 In 1985 the BAS discovered the hole in the ozone layer.
Discovered ice cap is being reduced by 1cm per year.
Predicted the disintegration of the Larsen B ice shelf
Set up several unmanned stations to record scientific data.
Past climates studied using ice cores and cores from the sea bed
Discovered new rock sequences
Over 100 years of sea ice have been investigated from the South Orkney Islands to the Antarctic mainland.
Studies of terrestrial and sea life.
Studies of the albatross using radio transmitters and satellites.
In 1998 discovered that the height of the Earth's atmosphere has been reduced by eight kilometres (five miles) in the previous 38 years.
Lake Vostok discovered under the ice below the Russian base in eastern Antarctica.