The death of Bruce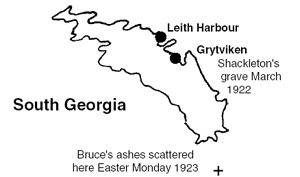 When Bruce returned from Spitsbergen he was mentally and physically exhausted. He organised the break-up of the Scottish oceanographic laboratory. The gear and fittings of the laboratory were sold, the collections of specimens went to the Royal Scottish Museum (where many of them remain today), the maps and charts went to the Royal Scottish Geographical Society, the polar books to Edinburgh University and his Scotia comrades received treasured mementos.
Bruce returned to hospital where he remained for the rest of his days. He died on 21 October 1921. His funeral was on 2 November, the nineteenth anniversary of the departure from Troon of the Scottish National Antarctic Expedition.
Bruce was cremated in Glasgow and according to his wishes his ashes were later scattered in the Southern Ocean off the coast of South Georgia, 54°30'S 37°00'W.