Voyage of the Uruguay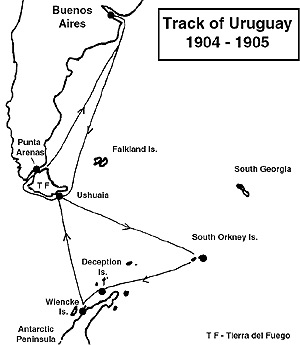 Captain Don Ismael Galindez left Buenos Aires on 10 December 1904 to take off the party from Scotia, and to land a new party with stores and coals. Fifteen tons of coal was unloaded along with ten tons of provisions. The weather took a turn for the worse and all these supplies were left for the five relief workers to carry across to Omond House. They were then left to continue the meteorological and magnetic readings.
Uruguay was an Argentinian war ship (rigged as a barque) but unlike the many Antarctic ships was made of steel with a sheathing of wood. Head winds on the way south forced her to put into the capital of Tierra del Fuego for coal. She anchored in Uruguay Cove in Jessie Bay on the north side of Laurie Island on 31 December. The three crew members from Scotia were on their way home.
Uruguay went on to Deception Island which has a superb anchorage inside the crater of a volcano. The depth was 12 metres (40 feet), less than the previous recordings 70 years before. This may have been due to seismic activity - the island later erupted in 1967 and 1969. Uruguay was looking for messages from the Charcot expedition on Deception and Wiencke Islands but none were found.
The ship sailed north to Ushuaia where she spent a week cleaning her boilers before travelling to Puntas Arenas on the 30 January 1905 and arriving in Buenos Aires on 8 February.