Bruce's education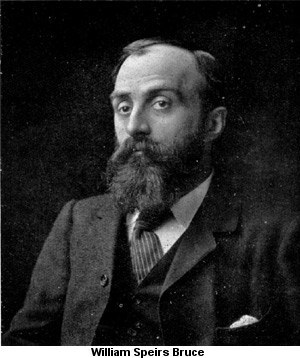 Bruce's formal education was at boarding school in Norfolk. The family expected Bruce to follow his father's profession and he was enrolled in the medical school at London University. A holiday course in Scotland made Bruce change his mind and he decided to return to his roots and to study medicine at Edinburgh University.
In 1887 Bruce attended a course in marine biology at Granton, near Edinburgh. The course was conducted by Professor Patrick Geddes in an old canal barge named Elizabeth which his students called 'The Ark'.
Geddes, like many scientists of his day, was interested in many fields of study. He was a biologist, pioneer sociologist, geographer and town planner. He was an excellent teacher who enthused Bruce with his excursions along the shore of the Firth of Forth and in his work in the laboratory in 'The Ark' (which ended up at the marine laboratory at Millport).
Bruce worked in the important Challenger office near 'The Ark', where he was to meet the foremost scientists of his day. The Challenger expedition of 1872-1876 was the first global oceanographic expedition.
Bruce began his medical studies in Edinburgh while pursuing his interest in marine biology and oceanography. He continued to work in the Challenger office when time would permit.
Bruce had made friends with the geographer Hugh Robert Mill, a Scotsman who was working for the Royal Geographical Society in London. Mill was to unlock the door of polar exploration to Bruce. It was Mill who recommended Bruce for the post as naturalist and surgeon on the Dundee whaling expedition to the Antarctic in 1892 (aboard Balaena).
Bruce was aged 25, extremely fit (he could walk 100km or 60 miles in a day and was an excellent swimmer) and very enthusiastic. Here was a chance to use all his studies for hands-on experience of the Antarctic.
Bruce's medical studies were never completed as he started down the road to a career which was to make him Scotland's greatest polar explorer.
Bruce's sister taught Princess Victoria Mary of Teck to speak English. The princess married the Duke of York who was to become King George V and she became Queen Mary. She died in 1953, the year of the coronation of Queen Elizabeth II.