The journey to Elephant Island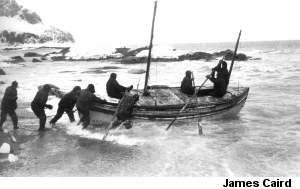 On 9 April 1916 the three boats from Endurance were launched. They were named James Caird, Dudley Docker and Stancombe Wills after Shackleton's benefactors. The boats headed for Elephant Island in the South Shetland Islands. The party had drifted for 3,200km (2,000 miles) on the ice.
The sea trip to Elephant Island was a nightmare as rough seas, freezing spray and blizzards swept the boats. At night they sheltered behind floes. Ice had to be chipped off the boats to prevent them turning over. On 15 April 1916, after seven days at sea, the party landed on Elephant Island - the first land on which they had set foot since 1914. They were very lucky not to have had casualties.
On 19 April, Shackleton announced that he was going to get help and work began to prepare James Caird for the 1,100km (700-mile) journey to South Georgia. The deck was covered with wood and canvas using nails from the other boats. The crew was to be Shackleton, Captain Worsley as navigator, Tom Crean, McNeish the carpenter and two other sailors.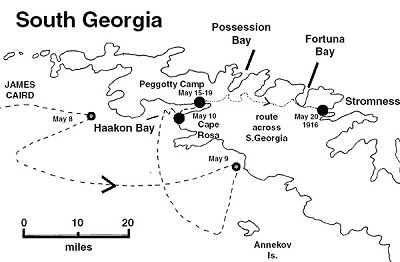 On 24 April, James Caird was loaded with stores, water and stone ballast and sailed for South Georgia. Four-hour watches were begun with one man on the helm, one handling the sails, one bailing while the other three slept below decks. Gale force winds were with them most of the voyage - which was expected to last 14 days. The boat was continually swept with waves and everyone was cold and wet. Hot meals were cooked below on a primus stove (held between the feet of two men) and a hot drink made from dried milk was made every four hours.
At one stage a gigantic wave almost swamped the boat and only rapid bailing by all six of the crew stopped it from sinking. Later, when the wind dropped for a while, ice formed on the deck and the crew took it in turns to crawl on the deck with an axe and chop the ice off the boat.
Worsley took sun sights with his sextant when the weather allowed. Two men had to hold him in position in the tossing boat. His navigation was very accurate and on the 8 May 1916 they sighted South Georgia. It was dark and the unmapped south coast of South Georgia was full of rocks and reefs, so they decided to stand off for the night.
Next day the wind rose to hurricane force threatening to dash them on the rocks. Very skilful seamanship allowed them to sail clear but it was a close call. On 10 May they landed in King Haakon Bay.