Antarctic exploration 1926-1952
Norwegian expeditions 1926-1937
Lars Christensen
Nine expeditions were financed by Lars Christensen. Some of the later expeditions used small aircraft to explore. After the Norwegian and Australian expeditions most of the Antarctic coast had been mapped.
First aircraft in the Antarctic 1928
Sir Hubert Wilkins
This was the first aircraft to be used in the Antarctic. It successfully flew over the Antarctic Peninsula from Deception Island to 71°20'S.
American Antarctic Expedition 1928
Commander Richard Byrd
Commander Richard Byrd led the first major American expedition to the Antarctic for 90 years. His base was Little America near the Bay of Whales. The expedition had two ships, three aircraft and 42 men at base camp. Byrd flew over the Queen Maud mountains and then flew over the South Pole on 29 November 1929. Byrd sent a radio message from the South Pole which was picked up by chance in New York - the fastest that news had travelled from the Antarctic at that time. The 16-hour flight had difficulty flying over the Antarctic mountains and had to jettison stores to gain enough altitude. He discovered new territory which he named Marie Byrd Land.
Byrd was to lead five expeditions to the Antarctic. He returned to the Antarctic in period 1933-35 on the Scottish whaler Bear of Oakland with three crawler-type tractors and two Ford snowmobiles. During this period he overwintered in a hut on his own on the ice barrier - a frightening experience especially when, after a journey outside, he could not enter his hut as the trap door was frozen. Eventually he managed to force an entry.
The Bear
The Bear was a wooden barquentine of 703 tons built at Greenock as a sealer in 1876. In 1884 she was purchased by the American government for a rescue mission to the Arctic. After this she was used by the USA coastguard service. She later became a museum for a time in San Francisco. In 1933-35 she was used by Richard Byrd on his second Antarctic expedition and again in 1939-41. She eventually sank off Newfoundland in 1963.
Banzare expedition 1929
Douglas Mawson on Discovery
British, Australian, New Zealand Antarctic research expedition
Scott's ship Discovery was used between 1925-27 to investigate whaling, for oceanographic work and to undertake a detailed survey of the South Sandwich Islands. In 1929 Discovery was given to the Banzare expedition which was a very successful scientific enterprise.Gypsy Moth aircraft were used.
American expedition 1935
Lincoln Ellsworth on Wyatt Earp
On this expedition Lincoln Ellsworth flew from Dundee Island over 3,200km (2,000 miles) to the Bay of Whales - the first transantarctic trip. The plane relied on fuel dumps to complete this flight. Ellsworth Land was discovered. On a later date Ellsworth flew an autogiro in the Antarctic.
Operation High Jump 1946-47
Richard Byrd in command at Little America IV
This massive expedition involved 13 ships, three aircraft and 4,700 men. It included two icebreakers and a helicopter. Synoptic charts were produced twice daily to provide a first overall weather view of the entire continent. Daily aerial surveys were also carried out, as was magnetic work.
First international expedition 1952
Norwegian - British - Swedish
This scientific expedition operated from Maudheim in Droning Maud Land. It was most successful and was to lead to international scientific co-operation which has continued into the twenty-first century.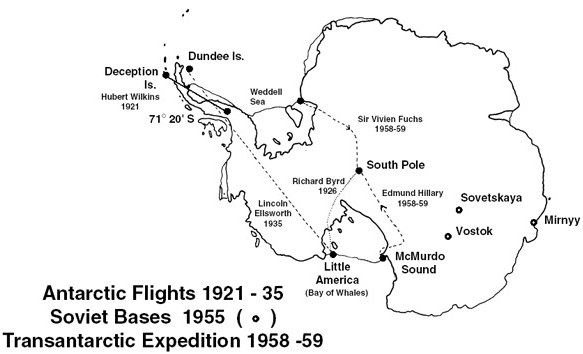 American expedition 1955
Operation Deep Freeze under Rear Admiral Richard Byrd
Seven ships and three icebreakers took part in this expedition which involved thousands of Americans. The use of aircraft was essential to bring in supplies and the first direct flight to Antarctica was made to the base at McMurdo Sound on the Ross Sea. The following season the first landing of an aircraft was made at the South Pole where a permanent base was built - the Amundsen-Scott Base
Russian expedition 1955
In 1955 Russia set up three bases in the Antarctic: the coastal base at Mirny and two inland bases at Vostok and Sovetska. This was the first Russian expedition to the Antarctic since Bellingshausen's circumnavigation in 1819-1821.