Scottish National Antarctic Expedition 1902-04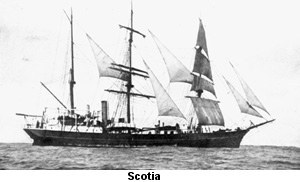 The Scottish National Antarctic Expedition was led by William Speirs Bruce on the whaler Scotia (see section 5 for a full account). This was an entirely Scottish enterprise which was funded by Scots, led by Scots and sailed south from Troon on the Ayrshire coast. The expedition was working in the Weddell Sea area and wintered in the South Orkney Islands.
The expedition's main aims were scientific and a tremendous amount of research was undertaken - mapping of the South Orkney Islands, oceanographic survey of the Weddell Sea, zoology, botany and geology. A meteorological station was established on the South Orkney Islands which continues to be operated by the Argentinian government today.