James Weddell (1787-1834)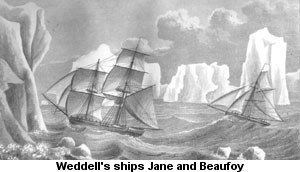 Captain James Weddell, a Scottish sealer, sailed from Leith in 1822 on the 160-ton brig Jane accompanied by the 65-ton cutter Beafoy. He sailed around the South Shetland and South Orkney Islands producing rough charts of these. He then managed to sail south in the Weddell Sea to 74°15'S 34°16'W, a remarkable achievement in a sailing ship. The ice conditions were just right. No ship penetrated this far south in that part of the Weddell Sea until 1967.
Weddell's journal of his travels was published and quickly sold out resulting in a reprint.
In 1830-32 the Enderby Brothers Trading Company sent John Biscoe south with the brig Tula and cutter Lively. Biscoe was the first to set foot on the Antarctic continent. His ships found Enderby Land and Queen Adelaide Island (now the main British Antarctic base in the south) during their circumnavigation. They found few seals, lost the Lively and suffered severely from scurvy. (The Enderby Brothers Trading Company had also encountered a spot of bother while unloading tea in Boston in 1773.)
The 1837-1840 voyage by Frenchman Dumont d'Urville, with Astrolabe and Zelee, surveyed part of the Antarctic Peninsula. He discovered Terre Adelie and brought back an extensive natural history collection. An American voyage under the command of Wilkes, with six vessels, sailed along 2,400km (1,500 miles) of the Antarctic pack ice, confirming there was a continent.