Voyage of the Scotia 1902-04
Map of the first part of the homeward voyage of the Scotia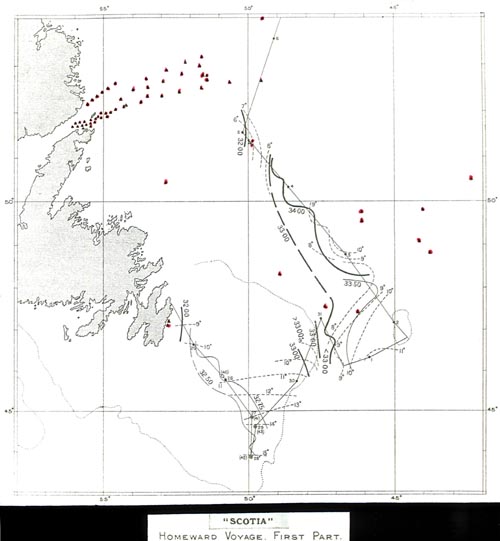 In the spring of 1905, after her success on the 1902-1904 Scottish National Antarctic Expedition under the leadership of William S Bruce, the exploration ship Scotia was sold for £5019 and ninepence to a Dundee consortium, which intended to return the vessel to its original purpose of whaling.
Initially, after a single unsuccessful trip to Greenland, the Scotia was laid up. Then, after the sinking of Titanic in April 1912, she was fitted with wireless and brought back into active service as part of the North Atlantic ice patrol, once again under the command of Captain Thomas Robertson.
This chart records the first part of her homeward voyage from off Newfoundland toward Greenland. Icebergs are marked in red.