There is some confusion over the exact date of the inauguration ceremony, most accounts give it as the 17th or 18th of August 1846, but contemporary newspapers state that it was the 15th (Scott's Birthday).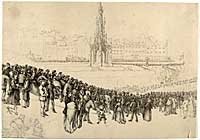 This image on the left shows the massed crowds gathered on the Mound, near the Playfair Steps. The depiction of the Monument is rather sketchy, but overall it conveys well the thousands of people attending. People came from all over, the steamer 'Britannia' brought 300, 400 people came from Dundee the evening before, other ferries arrived in the morning from Fife, and a train came from Burns country with hundreds aboard.
The procession comprised the Monument Committees, the Town Council of Edinburgh, the Magistrates of Edinburgh, Canongate, Leith and Portsburgh, various Masonic Lodges and Officials, who all assembled in the Royal High School. It was described in The Scotsman newspaper as "a moving stream of umbrellas, with long lines of stationary umbrellas for its banks", although there is not an umbrella to be seen in this image.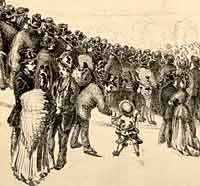 It was preceded by mounted military band, and a detachment of Dragoons. There was an opening address by Lord Glenlyon, Grand Master of Scotland and a reply by the Lord Provost of Edinburgh, the Right Honourable Adam Black - whose statue is 100 yards to the west of the monument.
The detail on the right is a taken from the same image. It shows more clearly the people in the crowd, the men in their top hats and tails, the women in long dresses with bustles and shawls, their hair tied up beneath fancy hats.
(The image is part of the City of Edinburgh Council Central Library service, Edinburgh Room collection. Bequeathed by Mr Kenneth Sanderson, W.S., Chairman of the Libraries Committee 1929-1943.)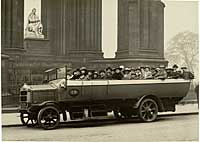 The Scott Monument has continued to attract crowds ever since. This photograph (by F.C.Inglis) shows a group of tourists from Grimsby on a charabanc trip to the Scott Monument in the 1930s. They presumably travelled by train to Edinburgh and were doing a city tour by charabanc.