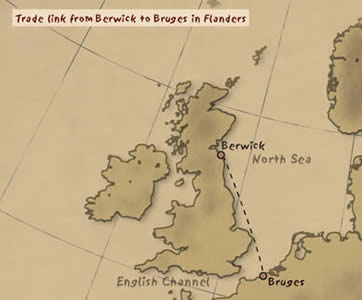 The Cistercian monks have been given uncultivated land in and around the burgh which is ideal for sheep farming. Over the last years, they have become important wool producers.
They have developed a system of collecting wool for export. They traded mostly with the Count of Flanders who, as you know, lives in the most important textile-producing region of north west Europe.
They know your family has some sheep and offer to take some of the wool for you, when they next see you at the burgh market.
Map showing trade link from Berwick to Bruges in Flanders.