Voyage of the Scotia 1902-04
William S Bruce's cap, with the insignia of the Scottish National Antarctic Expedition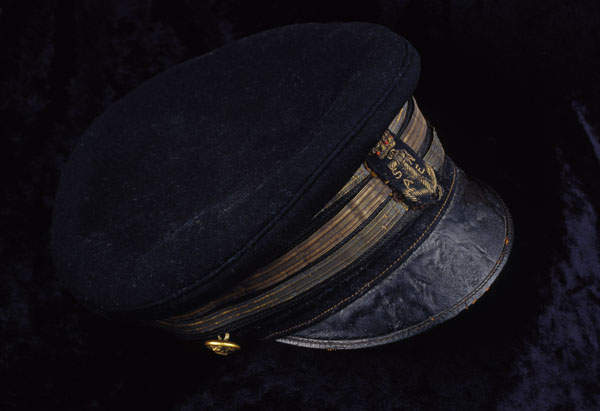 This cap, embossed "George Hunt (late W & J Black) Yachting & Naval Outfitter of 13 Commercial Street, Leith", and labelled "George Hunt Athletic Outfitter of 33 & 35 Nicolson Street, Edinburgh", was used by William S Bruce on several of his polar expeditions, and can be seen in some of the corresponding photographs.
Although born in Kensington Gardens Square in London, Bruce was of Scottish descent, lived most of his adult life in Scotland, and is regarded as having been Scottish.
His interest in polar exploration was stimulated by his experiences as surgeon/naturalist on the 1892-1893 Dundee Antarctic Expedition. His greatest achievement is widely regarded as his organisation and leadership of the 1902-1904 Scottish National Antarctic Expedition.