Voyage of the Scotia 1902-04
William S Bruce's Verascope stereoscopic camera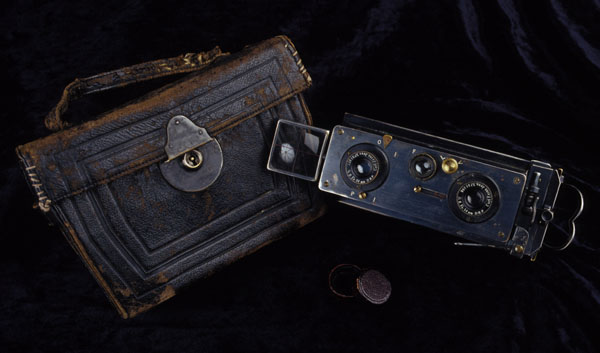 Scottish explorer William S Bruce's Vérascope stereoscopic camera, patented (brèvetés SGDG 11340) by Richard Frères of Paris and gifted to him by Dr Jules Richard (chief scientist to Prince Albert I of Monaco), was donated to the Royal Scottish Geographical Society by Bruce's granddaughter Moira Watson of Hamilton, Ontario, Canada.
The camera was designed to take simultaneous double images (each 47mm x 40mm) on 12 pre-loaded 107mm x 44mm glass plates, through two 54mm Zeiss lenses centred 63.5mm apart. Seen through a suitable binocular viewer, the resulting images appear three-dimensional.
A collection of photographs taken with this camera during the 1902-1904 Scottish National Antarctic Expedition is held in the archives of the University of Glasgow (ref.DC404).