Voyage of the Scotia 1902-04
The Patrick Neill Medal of the Royal Society of Edinburgh presented to William S Bruce in 1913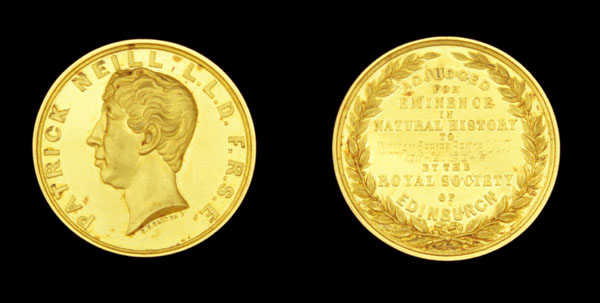 This handsome gold medal was made by Alexander Kirkwood and Son, Medallists, of 9 St James Square, Edinburgh. It was named in honour of Patrick Neill LLD, FRSE, whose striking bas-relief head, modelled by C F Carter, appears on the obverse.
It was "adjudged for eminence in Natural History to William Speirs Bruce LLD, 1911-12, 1912-13, by the Royal Society of Edinburgh", and presented to the nominated recipient in 1913.
The medal was first awarded in 1859, as the result of a bequest in 1851 from the late Dr Patrick Neill, a distinguished Scottish naturalist. It is still awarded every three years for a work or publication by a Scottish naturalist, preferably based in Scotland, on some branch of natural history.