Voyage of the Scotia 1902-04
Drawing of a cross-section of the hull of the Scotia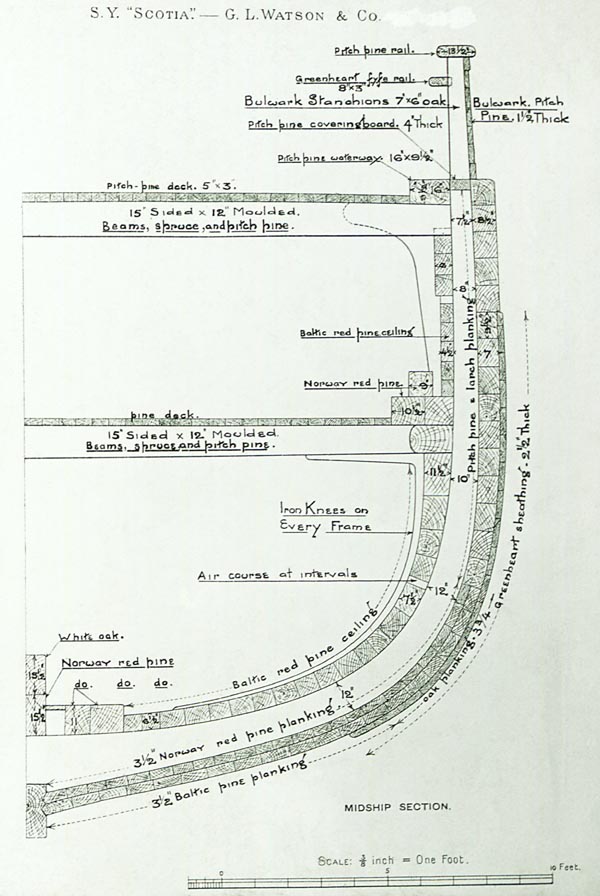 William S Bruce acquired the Norwegian whaler Hekla for use on his 1902-1904 Scottish National Antarctic Expedition. The vessel was reconstructed as the Scotia by the Ailsa Shipbuilding Company at Troon under the guidance of yacht designer George L Watson.
The reconstruction involved strengthening to withstand the force of ice impact and pressure, the provision of accommodation for scientific research work, and the construction of a photographic dark room. New engines and a new boiler were also fitted, enabling the vessel to reach a speed of seven knots.
The Scotia was classified as a barque-rigged auxiliary screw steamer of about 400 tonnes, with a length of 40 metres (140 feet), a breadth of nine metres (29 feet), and a depth of four and a half metres (15½ feet). Her wooden hull had sides 63cm (25 inches) thick amidships.