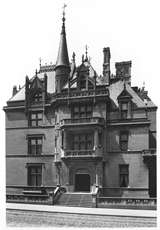 © National Museums of Scotland
Cornelius Vanderbilt (1794-1877) and his son William Henry (1821-85) amassed the famous Vanderbilt fortune from shipping and, more importantly, the development of the American railroad system. It was the first great industrial fortune in the USA, and in January 1883, William Henry confided to a friend that he was worth $194 million and was 'the richest man in the world'.
This colossal wealth enabled William Henry's son, William Kissam Vanderbilt, and his domineering wife Alva (who married in 1875) to employ the architect Richard Morris Hunt and spend about $2 million erecting a massive French Renaissance-style château on Fifth Avenue, New York, between 1878 and 1883. Alva naturally wanted outstanding items and interiors to establish herself as one of the leading figures in New York Society, and she succeeded in acquiring the superb Japanese lacquer secretaire and commode or chest of drawers that Jean-Henri Riesener had made for Queen Marie-Antoinette's personal use at Versailles in 1783. They had been the most expensive pieces at the 1882 Hamilton Palace sale, fetching £9,450 each -a then mind-boggling total of £18,900. However, they perfectly complemented the queenly role that Alva envisaged for herself, and also the Vanderbilt servants in livery.
Unfortunately, Alva's plans went sadly awry. She divorced her husband and moved out of the 'Petit Château de Blois' a little over a decade later. Moreover, her daughter's marriage to the Duke of Marlborough in 1896 also ended in estrangement and divorce. No 660 Fifth Avenue and its contents therefore lost much of their purpose. At his death in 1920, William Kissam Vanderbilt bequeathed the secretaire and commode to the Metropolitan Museum of Art along with ten of his best paintings, including the 'deliciously erotic'

Toilet of Venus

by Boucher. Many of his remaining items were sold in 1921 and the château itself was demolished five years later. By 1947, all ten Vanderbilt mansions that once lined Fifth Avenue -millionaires' row -had been destroyed.