David, you have recently inherited the Scottish throne from your brother, Alexander I. Your brother's death has come as a shock. As the youngest son of Malcolm III 'Canmore', you have not been trained for this role, the Crown normally passes to the eldest son.
Like your mother, Queen Margaret, you have spent most of your life in the English court. Scotland is very different from the civilised courtly life you grew up in.
Right now, the country is suffering from a period of extreme social and political unrest.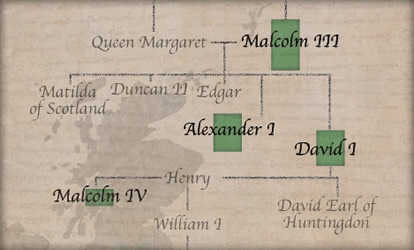 Bloodlines of David I, son of Malcolm III 'Canmore' and Queen Margaret.