The Henderson Collection Inventory
Walsh's Caledonian Country Dances Books II and IV
Numerous tunes with dance instructions.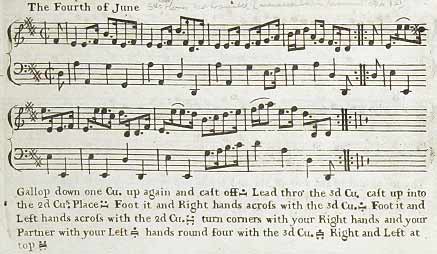 Music publisher John Walsh was born in London c1666. He began his working life as an instrument, turning to publishing in 1695. Walsh established a go-ahead printing and publishing service at a premises in Catherine Street off The Strand, where music was printed on a scale hitherto unknown. A shrewd businessman, he published popular music and cheap music tutors, advertised, and offered subscription issues and serialized music collections. To reduce costs he used pewter plates instead of copper, and to speed up the printing process he used punches instead of engraving.
Newly arrived in London, Handel entrusted Walsh with the publication of Rinaldo in 1711. To diversify his offerings further, Walsh pirated Dutch editions of continental music such as the Corelli sonatas. He was succeeded in the business by his son, John jr (1709-1766), who published all of Handel's later works, having astutely secured the exclusive rights for a period of 14 years beginning in 1739.