The Henderson Collection Inventory
Burns Concert Poster, 1932
On the night of Friday 29th January, 1932, at The Learney Hall, Torphins, "A Grand Burns Concert and Dance" featured a number of local musicians and entertainers including John Murdoch Henderson.
On the bill that night: Rita Reith, soprano, Evelyn Lindsay, pianist, William Johnston, tenor, Bert Cruickshank, baritone, Willie Kemp, comedian and John Murdoch Henderson on violin.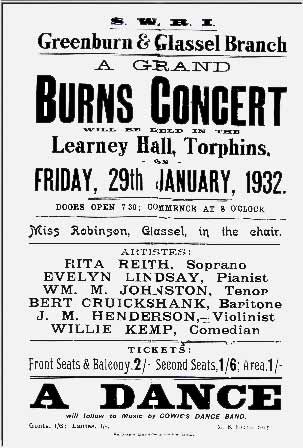 The best seats cost two shillings (10p) and for an extra 1/6 (7 1/2p) attendees could enjoy an after concert dance with music by "Cowies Dance Band."