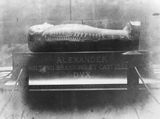 © National Museums of Scotland
British interest in Ancient Egypt grew during the first half of the 19th century, partly as a result of King George IIIís gift of the Rosetta Stone and other major items to the British Museum in 1802 and the Museumís acquisition of other monumental pieces through Henry Salt, the British Consul-General in Egypt.
Alexander, 10th Duke of Hamilton, was also interested in Egyptian antiquities, both as a connoisseur and as a Freemason (because Freemasonry traces its origins back to Ancient Egypt). He acquired two Egyptian sarcophagi: the granite sarcophagus of Pabasa, a high dignitary in the reign of Psamtek I (664-610 BC) (now in Kelvingrove Art Gallery, Glasgow), and the sarcophagus that became his own final resting place.
The duke had arranged to buy the latter for the British Museum, of which he was a Trustee, during a visit to Paris in 1836. However, the Museum had expected to receive the sarcophagus of the priestess Ankhnesneferibre and declined to purchase the much less important example they discovered when they unpacked the crate (which is now known to date from the Ptolemaic period and to have contained a lady named Ithoros). Alexander bought the sarcophagus for at least £600 and later sent it up to Hamilton. He was almost certainly inspired to use it as the receptacle for his own 'porcelain clay' by the coffin in which his hero Napoleon was reburied, in the Invalides in Paris, in 1840 and by the preparations to entomb the Emperor in a magnificent porphyry sarcophagus.