Back to start | Back to Storms
The East Neuk Disaster of 1875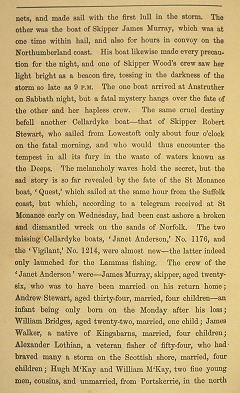 On Monday 19 November 1875 there was a great storm. Five East Neuk boats were lost with all hands when heading home after the East Anglian herring season. Over 40 boats from Cellardyke, 9 from Pittenweem and 30 from St Monans had gone south to the fishing off Lowestoft and Great Yarmouth. The journey took between 32 and 50 hours.
On the evening before they were due to sail, there was a great storm up and down the whole east coast. Even Free Kirk elders worked on Sunday to pull the boats up to safety when the sea-wall at Cellardyke gave way. At Yarmouth the storm subsided suddenly and so the boats left for home. However, when they were underway, the storm blew up again just as suddenly and the boats were forced to scatter to seek shelter. Five headed for Holy Island, and several made for North Shields.
In total, two boats from Cellardyke and three from St Monans were lost. Three crewmen were swept overboard from other vessels.
Skipper James Murray and a crew of six were lost with the Janet Anderson of Cellardyke. Nothing is known of what happened although the helm was later washed up at Cullercoats. The body of a tall, dark-haired man with the initials JM tattooed on his arm was washed up at Cockburnspath. James Murray's brother went to view the body but it was not the skipper of the Janet Anderson. James Murray was to have been married on his return home. His body, and those of the crew, were never found.
The Vigilant of Cellardyke was also lost with skipper Rob Stewart and a crew of six. The St Monans boats lost were the Beautiful Star with skipper James Paterson, the Thane with skipper Thomas Fyall and the Quest with skipper David Allan. Each of these boats had a crew of six, and all were lost. The Quest was found washed up on the coast at Norfolk. Owing to the practice of brothers and/ or sons and fathers working together on the same boat, each had more than one member of the same family on board.
Back to start | Back to Storms