Back to start | Storms | Next
Coping with stormy weather: boat design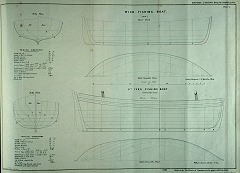 The design of boats influences their ability to withstand storms. Until the mid 19th century, Scottish fishing boats were small with open hulls. They were easily capsized in rough seas. In August 1848 there was a great storm in the Moray Firth. All along the coast from Wick to Stonehaven 124 vessels were lost or damaged and 100 men died. Many of the boats were lost while trying to enter harbour.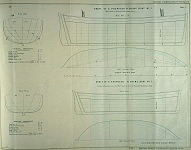 Following this storm, the Admiralty asked Captain John Washington to write a report. He produced a review of Scottish fishing boats. From this he hoped to be able to improve safety. He collected boat designs from all over the coast and listened to the evidence of local fishermen. Captain Washington recommended building larger, stronger boats. He also suggested the addition of shelter decks to reduce the risk of boats being swamped. This was resisted by the fishermen. They thought that the decks would take up valuable space on board and also increase the risk of men being swept overboard. However, Washington's proposals were gradually adopted. By the end of the century, all deep-sea fishing vessels were decked. Safety rails and the like, however, were kept low to facilitate the hauling in of the nets.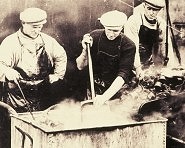 The lack of shelter decks on these early vessels was a big danger in stormy conditions. John Doig was a Cellardyke fisherman, born in August 1896. He started at the fishing in 1913 and was involved in the industry all his working life (apart from a spell in the Navy during the First World War). During the 1920s he worked on many Anstruther herring drifters and great liners including the Fife Ness and Dreel Castle. Both of these were skippered by William (Skow) Sutherland. After working on the Refloresco KY16, he spent six years on the Calliopsis KY223. He also had spells on the Cosmea KY21, the Copious KY175 and Agnes Gardner KY185. He had many experiences during his career. In one hair-raising incident, he found himself floating past the wheelhouse of the drifter he was crewing, having been picked up by a giant wave and washed overboard. Luckily the wave hurled him back on deck again - some distance from his original position!
Back to start | Storms | Next