You feel the spirit of William Wallace boiling within you. You are angry at the English oppression of your country. You want freedom for Scotland. It is time for a rebellion.
I hope you're ready for this.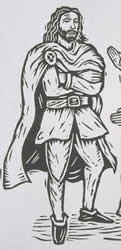 It is 1297. You are standing outside what was once your home in Lanark, but is now smouldering ashes. English officers burned it down, killing your wife in the process. In anger, you found the sheriff responsible and killed him.


Stand up for your rights and for what you believe

Form an army of rebels

Re-assert Scotland's independence from Edward I, 'Hammer of the Scots'










Wallace from a larger work by Owain Kirby.