[ parts: intro | 1 | 2 | 3 | 4 | 5 | 6 | 7 | 8 | 9 | 10 | 11 | 12 | 13 | 14 | 15 | 16 | 17 | 18 | 19 | 20 | 21 | 22 | 23 | 24 ]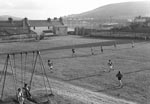 Part 6:
Playing in Shetland
People At A Football Match In The Shetland Islands
Houses near the harbour back onto playing fields where goal posts were erected to allow football to be played. The swings in the foreground were popular with younger children while their fathers played in or spectated at the match.
Since WW2 Scalloway has doubled in size and owes its importance to its fine natural harbour, sheltered from the Atlantic Ocean by a string of islands to the south and west. The name is Norse in origin, probably derived from Skalavagr, the bay of the skali or big house.
These photographs were part of a documentary called "Life in Shetland " by Tom Kidd which was part funded by a Kodak Bursary. He spent an initial nine months in Shetland, returning several times later.His exhibition toured Scotland and was also shown in London.
• click here for SCRAN Resource